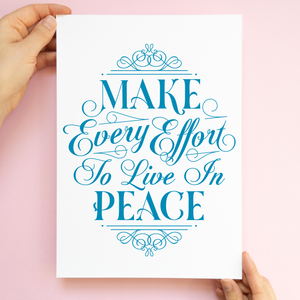 Print - Make Every Effort to Live in Peace
Sale price Price $35.00 (includes GST) Regular price
Make every effort to live in peace.
Hebrews 12:14
Living life with a family, particularly with children, will have plenty of moments of discord. Like for many people, this global pandemic shrunk my world down to the little house I live in and provided its own challenges when it comes to living in peace. (Especially with lockdowns and remote learning thrown into the mix).
However, I noticed plenty of times, it's me that I'm fighting with. For me, there are days where it's hard to make peace with challenges that come with living in a small home or make peace with other challenges that I'm dealing with that are out of my control. Often there is frustration and disappointment. It's a reminder that however much I plan, I'm not in control.
I do need to faithfully turn up to today and do what's required of me and leave the big picture to a God who is in control. I love that this verse is a reminder for me to make every effort to live in peace, including making peace with my own struggles.
I hope this verse is also an encouragement to you.
Add a little brightness to a room with this hand lettered Christian wall art. It will make a lovely gift for a friend, family member, or just for yourself!
Details: 
A4, 297 x 210 mm

Printed on beautifully textured, 270gsm Strathmore Wove

Frame not included

Designed and printed in Australia
See also at: Christian gifts for women / Hand Lettered Prints